Collaboration Stories
Researchers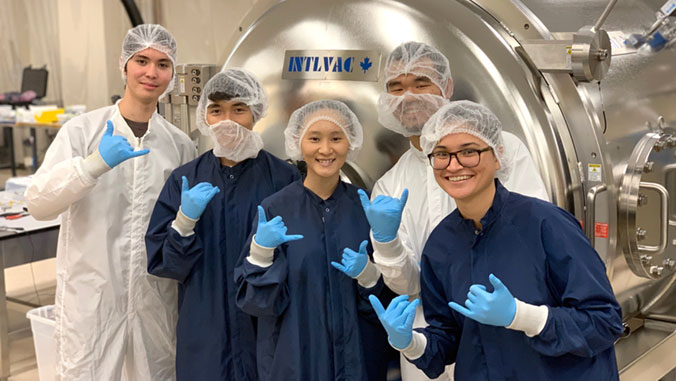 Engaging Minority Serving Institutions in your research gives you access to the brightest diverse minds excited to help you solve your puzzle. Connecting with our MSI Exchange helps you find the best match for your particular research by providing institution information such as STEM specialties, past projects, laboratories and other cutting-edge facilities and contact information. Finding the right diverse academic partner to increase your success is right at your fingertips with this tool.
Take the collaboration on Neutron-1 for example. A small satellite designed to measure neutrons in space and radiation from the sun was created by the work of over 100 University of Hawaii students, faculty, staff and volunteers together with University of Arizona as well as Kaua'I Community College, Windward Community College, Honolulu Community College and Kapi'olani Community College. Even though they faced challenges along the way, they relied on their partnership to help them through the obstacles and now their satellite is in orbit in the commissioning phase of the mission. You're just a few clicks away from finding your next research partner.
Read more about this story with the University of Hawaii Mānoa.(Opens in New Window; Non-NASA Link)
---
Industry
Engaging your business with NASA research priorities can lead you to grow your capacity and competitiveness. Connecting with our MSI Exchange gets you connected with diverse academic collaborators for critical mission work and projects. Here's an example of one of NASA's industry partners entering into a mentor protégé agreement with minority serving institutions to help grow small businesses and the next generation of scientists, engineers and innovators.
Teledyne Brown Engineering, Inc. entered into a NASA Mentor-Protégé Agreement with Alabama State University of Montgomery (ASU) and the University of Nevada, Las Vegas (UNLV). The 12-month agreement with the UNLV was the first such agreement between a Marshall prime contractor and a Minority Serving Institution. The 12-month agreement with ASU was the fifth such agreement between a Marshall Prime Contractor and a Historically Black College and University. As the prime contractor on NASA's Mission Operations and Integration Contract, Teledyne Brown will mentor students in the development of multi-media training for International Space Station Payload Ground Support Personnel and Payload Developers.
Read more about this story with Teledyne.(Opens in New Window; Non-NASA Link)
---
Higher Education
Engaging your institute of higher education with NASA gives you access to opportunities for your students to get hands-on experiences and grow your capacity and competitiveness. Connecting with our MSI Exchange allows you to highlight your strengths and capabilities and connect with small businesses, prime contractors, NASA researchers and other partners. Here's an example of how one Minority Serving Institute (MSI) aligned their research with NASA's research priorities to build their own capacity.
To build institutional research capacity, and contribute to NASA Technology Area 3 (TA3): Space Power and Energy Storage, Xavier University of Louisiana acquired three state-of-the-art lithium ion battery glove boxes equipped with a lithium evaporation system, ultraviolet light, and spin-coater using funds obtained from NSF. In addition, they used NASA funds to purchase a high energy vertical planetary Ball Mill, 6T hydraulic Lamination Hot Press, 250 C Vacuum Oven with programmable controller and flowmeter, and Coin Cell battery maker. The center is equipped with various other equipment, including a low pressure chemical vapor deposition (LP-CVD) system, automated RF double Magnetron gun sputtering system, potentiostats, and Arbin battery tester. They have access to common instrumentation including Hitachi SEM with EDAX capability, Hitachi Field-emission SEM, Hitachi transmission electron microscope. The University/College has supported this effort by providing high achieving students with full or partial tuition and some students receive a full ride. In addition, the University has higher faculty with expertise in materials science or polymer chemistry. At the time the SHELiB center had three faculty, one research scientist and twelve student scholars. They also published ten articles and presented 15 posters at national conferences. Additionally, they have enhanced student knowledge and research skills by contributing to the General Chemistry Courses and creating a new Polymer course.
Read more about this story with the Xavier University of Louisiana.(Opens in New Window)